Hanoi is an attractive city for your nighttime stay because the city becomes more stunning at night. Hanoi nightlife is exceptionally vibrant and energetic. This experience used to be sparse, but it has recently picked up steam.
Hanoi nighttime has many exciting things to see and do. You can sit on a low plastic stool on the street, drink the cheapest beer in the world, and go to a lively bar or dance in a nightclub.
If you don't do these, you can walk through the illuminated city and eat some of the best street food or go to the Opera House and watch a beautiful show. What you like doesn't matter because there's something for you when going out in Hanoi.
About Hanoi City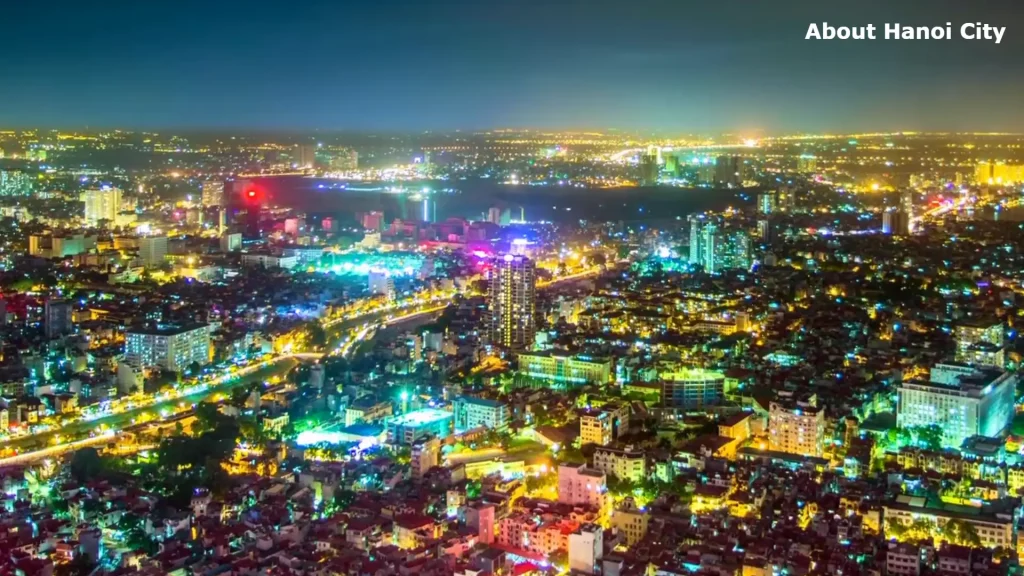 Hanoi city is named after the word Hanoi Hanoi is a regional word that means the city of lakes. It is an exciting place to visit. You will find the Long Bien Bridge in this city, which is no less than a wonder of the world and was designed by Alexandre Gustave.
Also, you will find here some strange habits of city people to avoid due taxes. The houses here are narrowly built. Here you will find mosaic murals, which are very famous and attractive. In Hanoi, you will see the giant mosaic mural in the world, which is 4 kilometers long!
Locals are crazy about it as the city is famous for its dog meat. Beer is also very cheap in this city.
7 Best Nightclubs & Bars To Party At Hanoi Nightlife
Your Hanoi Nightlife is incomplete without the nightclubs and bars. You'll find everything from perfect music to floor dancing while drinking beer in Hanoi's nightclubs and bars. You can get the drinking vibe and friendly people at these bars and nightclubs. Here is a detailed list of the 7 best Hanoi bars and Hanoi clubs.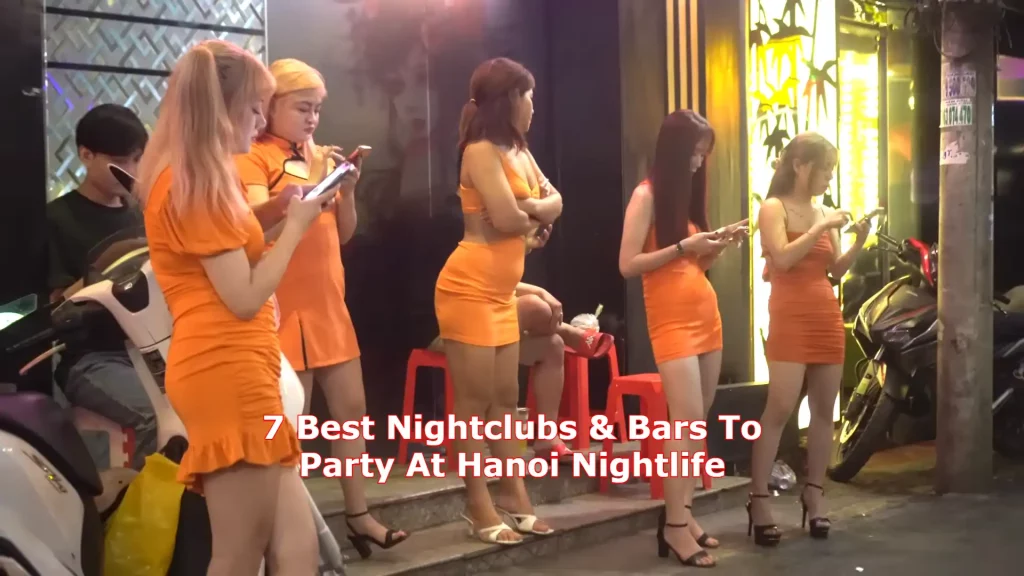 The Alchemist Cocktail Bar
The Alchemist is a cocktail bar high on the list of tourists who want to enjoy the nightlife in Hanoi. You can drink more than 40 seasonal cocktails here. Not only can you drink cocktails here, but you can also watch some great live performances here. If you like to drink wine, visit Alchemist – Cocktail Bar.
The quality of the drinks here is top-notch, and the ambiance is also charming. Also, there is no smoking ban here, so this is a plus point for you if you are a smoker.
You can visit 19 Nguyễn Quang Bích, Cửa Đông, Hoàn Kiếm, Hà Nội 100000, Vietnam, to visit Alchemist Cocktail Bar while you stay in Hanoi at night. The bar is open every Monday-Sunday from 7:15 pm to 12:00 am.
The 371 Bar
If you are a whiskey lover, then we have found a place that is heaven for you. At 371 Bar, you will find a massive collection of very interesting whiskeys and high quality. Moreover, they are available here very cheaply.
Here you can drink whiskey in an enjoyable environment and enjoy it. I hope you have a great time here and enjoy the most fantastic night of your life by staying here because this place is very comfortable and modern.
This place is located in 42B Bát Đàn, Hàng Bồ, Hoàn Kiếm, Hà Nội, Vietnam. You can visit this website https://the-371-bar.business.site/ for more details. The bar is open every Friday-Saturday from 8:00 pm to 12:00 am.
King Pirates Club
If you like the hustle and bustle and want to enjoy the local culture while drinking great drinks, you can visit the King Pirates Club in Hanoi. The bar is located in the market area so that you can enjoy the local atmosphere.
You can meet some friendly locals and high-spirited people with whom you can enjoy a great time. You can enjoy rock music while drinking alcohol at this pirate-themed bar. You can also try their Vietnamese coffee during a night out in Hano.
If you want to come here, you can come to 24b Hàng Giày, Hàng Buồm, Hoàn Kiếm, Hà Nội, Vietnam. The bar is open every Monday-Sunday from 10:30 pm to 2:00 am.
CLU Cocktail Bar
If you are a cocktail lover, then CLU Cocktail Bar is paradise. If you like to sample and test your drinks and try some new flavored cocktails, then you should come to this bar to hang out.
One nice thing you should know about CLU Cocktail Bar is that if you don't want to drink alcohol, they make your non-alcoholic drinks. The non-alcoholic drinks of this bar are rich and delicious. Also, you don't have to worry about the price of these cocktails as you can get these cocktails at very affordable prices.
Also, you can get different flavors of hookah here. If you like hookah, then this is a plus point for you. It is undoubtedly a very interesting one. The staff here differs from other bars in Hanoi, and they will try to give you the best service. So are you still waiting? The best cocktail bars in Hanoi are ready for you. Are you coming?
For authentic entertainment in Hanoi, head to CLU Cocktail Bar at 6 Tong Duy Tan Hanoi Hanoi City, Vietnam, 10000. The bar is open Monday-Sunday from 7:00 pm to 2:00 am.
Savage Hanoi
Savage Hanoi is a lively club full of brews and pretty cool DJs. It is an exciting underground nightclub. You can enjoy a wonderful time here. Also, you can dance with joy here. This nightclub also has a smoking area which is a plus point for you if you like to smoke.
This place is located in Số 1 Ngõ 9 – Đặng Thai Mai, QuảngAn, Tây Hồ, Hà Nội, Vietnam. The bar is open from 6:30 pm to 4:00 am on Friday-Saturday.
Hero Club
Hero club is a perfect place to party in Hanoi Nightlife. It is ideal for those who love to do late-night parties. You will find some local as well as some international DJs. Here you will be served different flavors of hookah. Also, it ranks high on the travel list of tourists.
It is an exciting place. Although the entrance to the club looks like an old warehouse, it is the entrance to a heavenly club!
If you want to visit this place, you have to go to 42M Yên Phụ, Trúc Bạch, Ba Đình, Hà Nội, Vietnam. The club is open Sunday-Thursday, 9:00 pm to 3:00 am, and Friday-Saturday, 9:00 pm to 4:00 am.
The Opera Nightclub
Opera Nightclub is one of the best nightclubs in Hanoi. It is an excellent place to party. The cost of joining their nightly events is very cheap. They also sometimes serve wine. In this club, you can drink in an enjoyable environment. You can also watch various night shows in this club. This is an exciting place for Hanoi Nightlife.
This awesome nightclub is located at 18 Lương Ngọc Quyện, Hàng Buồm, Hoàn Kiếm, Hà Nội 100000, Vietnam. The bar is open Monday- Sunday from 8:00 pm to 2:00 am.
7 Best Places To Go At Hanoi Nightlife
The capital Hanoi is unlike any other place in Southeast Asia. The busyness of this city starts at night. Apart from bars and nightclubs, you can get a touch of local Vietnamese culture here at night. The 7 Places to go in Hanoi nightlife are discussed in detail below.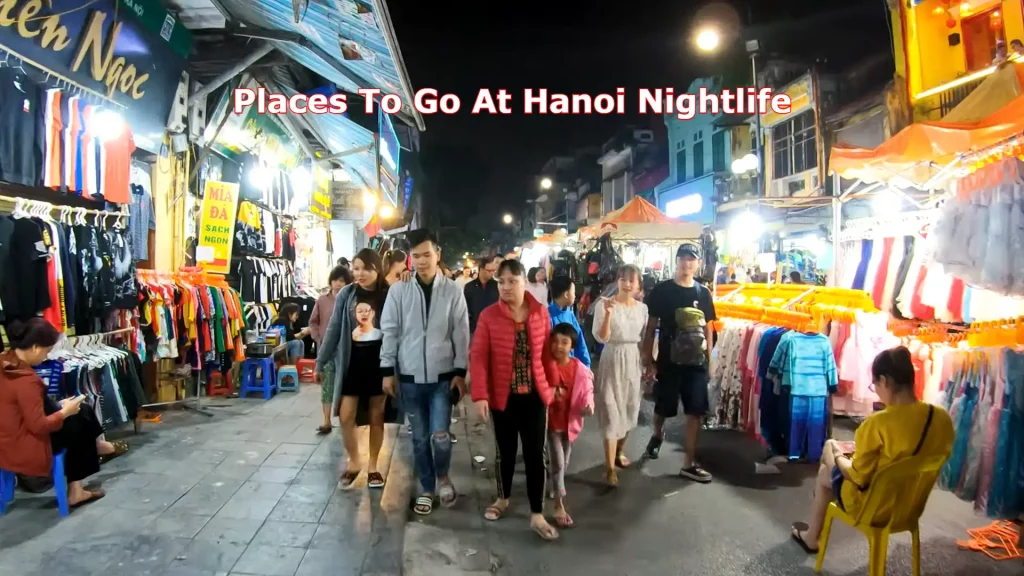 1900 Le Theatre Club
You can visit 1900 Le Theater Club which is located at the center of Hanoi on Ta Hien Street. Vietnamese youth and foreigners flock here every day. You will find DJs playing hip-hop songs on the modern stage, and live bands performing Vietnamese pop songs. You can enter here for free unless there is a special event. Alcohol prices then become high, paying VND 80,000 for a beer and VND 120,000 for a cocktail.
Hang Buom Food Street
Hang Buom food street is a 300m long street lined with restaurants and food vendors. There are more than 40 different restaurants with varied menus. These renowned restaurants are small in size and sell takeaway foods with hot pots and grills. These foods are very cheap, but the service here is excellent. Excellent service makes the food here popular.
While eating, you can enjoy the street music performance at the traditional Ca Tru and Huong Trung temples or nearby streets, which is very interesting.
Trang Tien Street
If you are an ice-cream lover then you should visit Trang Tien street. Here, you can eat authentic famous Trang Tien ice cream. You can taste the delicious ice cream without worrying about the budget of only VND 7,000. Trang Tien Plaza has every door, window, and entire staircase and handrails wrapped in pure bronze, making the whole mall look like a castle. The mall is bright yellow.
The Church Streets
Church Street is the common name for several streets around Hanoi's main church and is one of Hanoi's most famous landmarks. This place is highlighted by the ancient Gothic-style church. Also you can get the varied menu of cuisines from around the world.
You can sit with friends in the afternoon, bite some sunflower seeds, chit-chat, and watch the whole street change at night.
Hoan Kiem Lake
Hoan Kiem Lake is not one of the "can't miss" destinations for tourists visiting Hanoi, but a place connected to the city's spiritual history. There are two famous and ancient islands in the lake. One is Jade Island in the fire-red north of Hook Bridge and another one is Turtle Island in the middle of the lake with sparkling Thap Rua.
Ta Hien
Ta Hien is a short, 100 m-long street in the Old Quarter, the most populated and famous street in Hanoi. Bia Hoi is a famous option in Ta Hien but the most popular attraction of this place is the unique Hanoi street food style, the friendliness of people from all over the world, and cheap beer.
You will find no fancy tables here, but plastic chairs are placed just across the street. You can find people here using funny balloons that contain N2O gas and are legal in Vietnam.
You can walk west on Dinh Tien Hoang Street from the Hanoi Post Office and take a slight right past Civet Coffee on Hoan Kiem Lake Street. Then you turn right on Cau Go street and left on Dinh Liet street. From here, continue straight until you reach Ta Hien Road.
King Pirate Pub
Tourists have emotions for this place as this place is decorated with fun, pirate-themed, friendly, and chatty. Expats and locals also visit this place often because of the satisfying menu, local beers, and house wines.
If you like knightly adventure, you can enjoy the bar's Walk the Plank Challenge, where you can win a free t-shirt by finishing 5 shots of Captain Morgan's rum. This challenge is worth VND 400,000. Beer and cocktails here are very cheap.
Read More: Guest Friendly Hotels Hanoi | Guest Friendly Hotels Ho Chi Minh
7 Best Things To Do At Hanoi Nightlife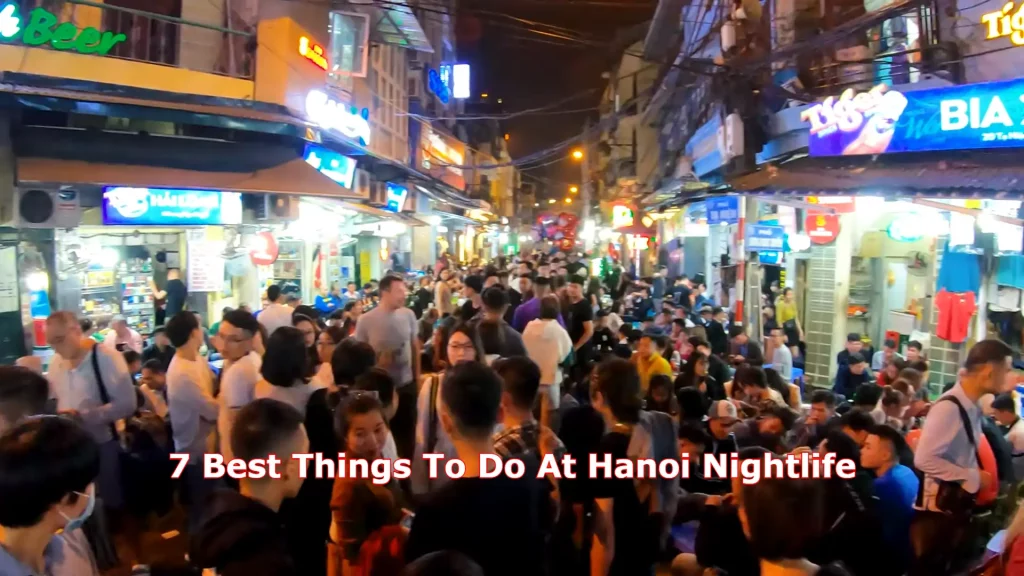 When the sun goes down, Hanoi buzzes, and a lot of exciting activity begins. The 7 best things to do in Hanoi nightlife are discussed below.
Visit Quang Ba night flower market
Quang Ba Night Flower Market is the largest flower market in the capital. Here flowers are provided for all shops and vendors. In the old quarter, you will see ladies with bicycles on the streets. This market is not only for business; there are many places to take photos with colorful flowers. You can find this market at 236 Au Co street – Tay Ho – Hanoi.
Visit sky 72 Observation Deck
The Sky 72 observatory is the most notable site of the Keangnam landmark 72 building. This is the tallest building in Hanoi. The Sky 72 Observation Deck will give you a panoramic view of the capital city. You can enjoy the view with the naked eye or through 3600 binoculars. It is open from 10:00 am – 11:00 pm, and the entrance fee is $8/person.
Drink lemon tea from St. Joseph's Cathedral
Many people in Hanoi like to hang out with friends in the evenings, especially on weekends. You can also hang out like this in the evening. So find a place where there are drinks and snacks, and you can sit and hang out. St. Joseph's Cathedral is an exciting place in the middle of the city where you can enjoy the beautiful view of the city.
Join the Hanoi street food tour
Here, you can eat a lot of food like Pho, Banh Cha, Banh Mi, Dim Coffee, etc. You can also walk through a small alley and see the customs of the local people. The local tour guide accompanying you will share many beautiful stories about the local history, food, culture, etc.
Tour Hoa Lo prison by night
In July 2020, the management of Hoa Lo Relic launched a new tour called "Holy Night" in Hanoi. You can travel here at night. Sound and light are arranged so that tourists can experience the harshness of prisons during colonial rule, which will help tourists learn about the resilience and heroic sacrifice of Vietnamese heroes. It evokes all the emotions and feelings of the audience.
Shopping at Hanoi night market
Many locals and tourists flock to the Hanoi night market. If you want, you can buy many types of souvenirs from here which you can give to friends and family members. There are many delicious local foods available at meager prices in this market. You can try them. You must bargain to buy products at affordable prices.
Play traditional games
At the end of the week, the entire area around Hoan Kiem Lake gets crowded. If you are visiting Hanoi on the weekend and want to enjoy the Hanoi nightlife, then by all means, take advantage of this walking street as many activities are happening here.
Like performances, traditional and modern dances, sports, etc. Also, local people will be happy to see you. They will teach you how to play many of their traditional games.
Related: Nightlife in Ho Chi Minh | Pattaya Nightlife | Phuket Nightlife
How is the weather in Hanoi?
Hanoi has three seasons. Namely: hot, dry, and humid. Hanoi is hot from March to May. The weather in Hanoi is dry from November to February. The weather in Hanoi is humid from June to October. December is Hanoi's most exciting and dry month, and April is the hottest month in Hanoi.
How safe is Hanoi to travel?
Generally, Hanoi is one of the safest cities in Vietnam. However, non-violent crimes such as theft, pickpocketing, and pickpocketing in crowded areas are rising. That is, you should maintain minimum safety and be alert while moving.
When should I visit Hanoi?
You can visit Hanoi at any time of the year because it is a warm city. But, we will recommend October to December is the perfect time for you to visit Hanoi.
Is Hanoi walkable?
Yes, Hanoi is a walkable city. It is a walk-friendly city where no one will bother you while walking. You can visit popular places on foot without getting tired. The town is walkable so you won't need a taxi or car to get from one place to another.
What are the places to visit in Hanoi during the day?
Along the nightlife places Hanoi has many beautiful places to visit during the day. Such as;
1. Vietnam Museum of Ethnology
2. Temple of Literature and National University
3. Lao of the Restored Sword, Lotte Observation Deck
4. Long Bien Bridge
5. Fine Arts Museum
Last Words
Hanoi city is one of the most attractive tourist spots nowadays. Indeed, this city is perfect for those who want the night. The price of beer in the town is meager, and the bars serve a large amount of beer. Not only the bars but the nightclubs here are also very striking. The local food here is commendable. It is very delicious to eat. The city contains local food, cheap beer, and crazy people.
Bars, nightclubs, and eateries here stay open until the wee hours so everyone can party until dawn. So, this is a plus point for all the party lovers and people who enjoy the night. Come and enjoy the Hanoi Nightlife and have one of your best travel experiences. Make plans with your friends. There's no substitute for delicious food and nightlife in Hanoi.