Nightlife Singapore – Singapore is a tropical, sun-drenched island in Southeast Asia. The country is renowned for moving from developing to developing in just one generation. Singapore, a vibrant city-state, is teeming with professionals rushing daily to work and meetings.
In contrast to its daytime role as a global financial powerhouse, the city's nightlife scene is a hive of activity. The brightly lit towers in this metropolis give it a youthful vibe, and its exciting nightlife draws many visitors.
Singapore nightlife has everything you might want to let off steam and have a good time, from award-winning nightclubs to unforgettable night safaris.
The Scenario of Nightlife Singapore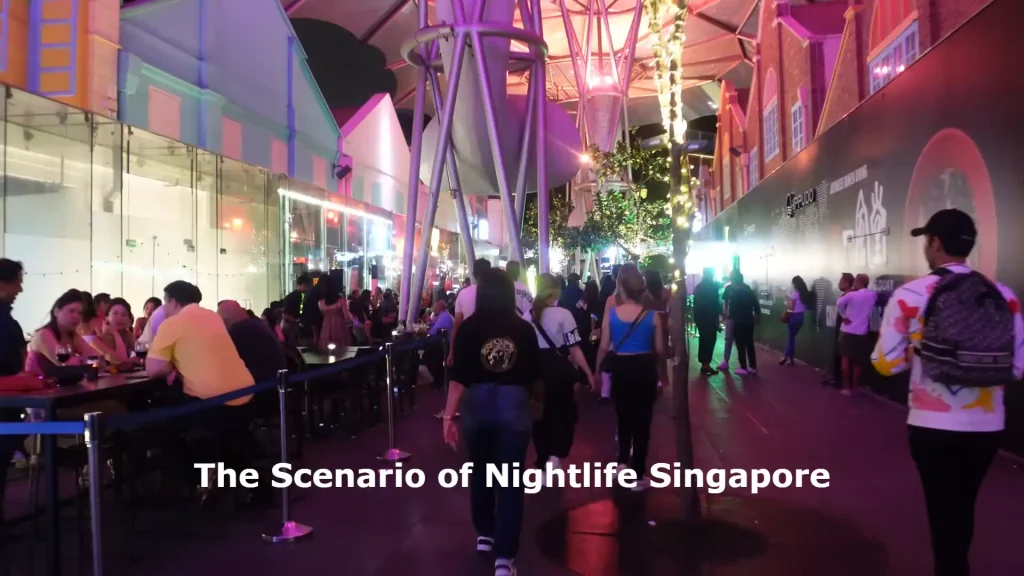 Singapore has developed throughout the years due to the country's unexpected tourism boom and economic expansion. There is currently a focus on trendy cocktail lounges, dance clubs, and rooftop bars.
The greatest of Singapore nightlife can be found in and around the city's central business district; this article is organized in such a manner that it's possible to go out for a fantastic lunch on Club Street near Chinatown, have a drink at Marina Bay while taking in the breathtaking view of the skyscrapers, and then finish the night off with some dancing on Clarke Quay night club party.
Many visitors travel to Singapore yearly to enjoy the city's nightlife. After the sun goes down, many areas of Singapore come to life, and it appears like every nook and cranny is filled. Here are a few exciting places to visit after dark, such as Orchard Road and Clarke Quay, where you may have the time of your life.
12 Things to Do at Singapore Nightlife
Are you looking on Google for things to do in Singapore at night to spice up your trip?
Good news: you've found the right place!
Singapore is a gorgeous island with a great variety of things to do at night, so you'll never be bored. It's impossible not to have a good time in Singapore, whether you're trying to sweat it out while at night trailing or taking in the city's vibrant nightlife. And you'll wish there was more time in the day to participate in every exciting opportunity.
I've included 12 things to do in Singapore at night so you can easily customize your plan.
Now, then, let's dive in.
Visit the Observation Deck at the Skypark at Marina Bay Sands
You should visit the Skypark Observation Deck at Marina Bay Sands if taking in panoramic views of the cityscape is one of your favorite pastimes.
On the 57th level, guests can take in a breathtaking panorama of the city-state, which is dominated by towering skyscrapers and gives off an ethereal feeling.
More than that, you will have a breathtaking vantage point from which to observe the Art Science Museum, Gardens by the Bay, and the Singapore Flyer, among other nearby landmarks.
Helpful Travel Tip: It's also one of the most incredible places in Singapore to see spectacular fireworks displays!
Address: Event Plaza
Nearest MRT: Bayfront Station (Downtown Line/Circle Line)
Visiting Hours: 11 am to 9 pm.
Visit the Gardens by the Bay
One place you shouldn't miss is the Gardens by the Bay. This vast garden is the SuperTree Grove, where giant trees that look like they came from the future are lit up in a purple-blue color.
Another breathtaking display of light and music that will wow you is the free Garden Rhapsody show, which you can view here.
Note: Garden Rhapsody airs nightly at 7:45 pm and 8:45 pm.
Make sure to visit the SuperTree Observatory and OCBC Skyway if you wish to stand up amid the SuperTrees and observe the surrounding verdant garden from a great height.
Address: 18 Marina Gardens Drive, Singapore, 018953
Nearest MRT: Bayfront Station is the closest subway stop (Downtown Line/Circle Line)
Entrance fee: No charge for entrance (SuperTree Observatory and OCBC Skyway are paid admission)
Visiting hours: 5:00 am to 2:00 am.
Check Out the Museum of Ice Cream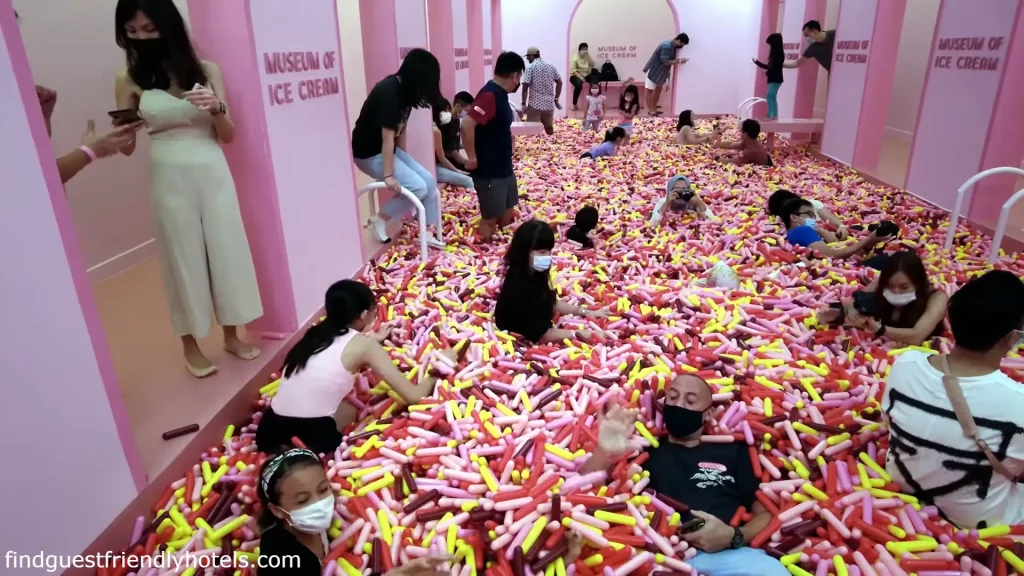 What could be more fun than spending the night in Singapore surrounded by the famous dragon playground, the unique sprinkling pool (into which you may freely plunge), and an endless supply of ice cream?
Check out the Museum of Ice Cream if this sounds like your kind of evening!
"Night at the Museum" is a program that can be experienced at the Museum of Ice Cream in Singapore. The entry ticket contains the following:
There are 14 different themed displays to explore.
Excellent (and bottomless) ice cream delight.
A one-of-a-kind MOIC drink (or a non-alcoholic beverage)
Cool new games aimed squarely at adults (and they have prizes!)
Warning: Participants must be 18 or older to participate in this activity.
Address: 100 Loewen Road, Singapore 248837
Orchard is the closest subway stop (North-South Route)
"Night at the Museum" Tickets are $46 during the week and $52 on the weekends (Closed from Monday to Wednesday)
Event Time: 6:00 pm – 10:00 pm.
Take a Bumboat Ride Along the Singapore River and Enjoy It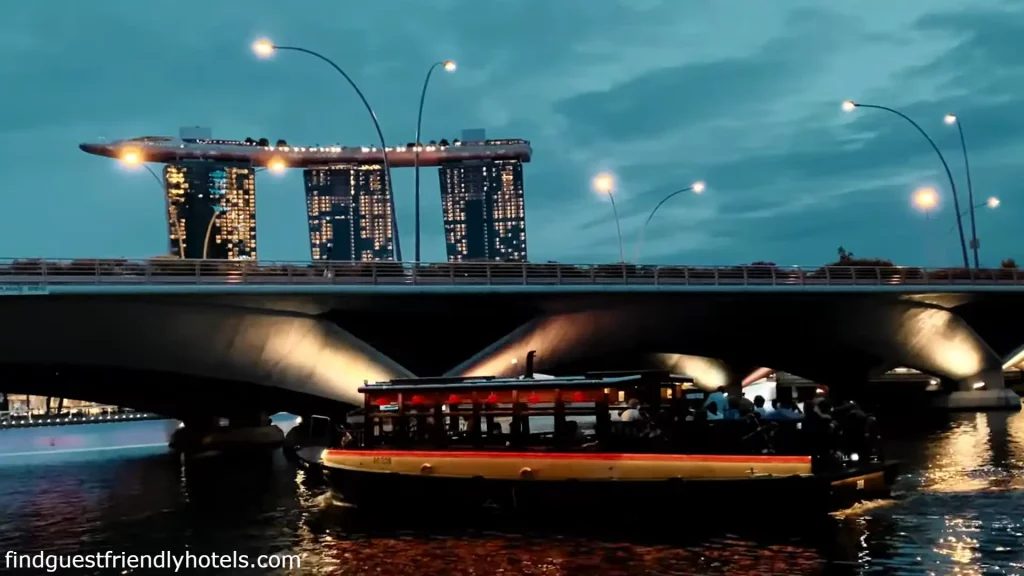 You may take a bumboat trip along the Singapore River if you question, "What should I do in Singapore nightlife?"
Traveling through three of Singapore's most vibrant neighborhoods in just 40 minutes, this ride offers breathtaking views of the city's once-bustling river (Marina Bay, Clarke Quay, and Boat Quay).
Along the way, you'll be able to take in sights like the Fullerton Hotel and the Raffles Landing Site, two of Singapore's most recognizable monuments.
For Tickets,
Visit: 3E River Valley Road, Singapore, 179024 (Clarke Quay Jetty)
Nearest MRT: Clarke Quay is the closest station (North-East Line)
Contract Hours : 1 p.m. to 10 p.m. (Monday – Thursday), 10 a.m. to 10 p.m. (Friday – Sunday)
Spend Some Time Exploring Clarke Quay
Clarke Quay is a famous nightlife district in Singapore, with numerous pubs and restaurants lining the banks of the Singapore River.
Suppose you find yourself in Clarke Quay on a Friday. In that case, We highly recommend paying a visit to the Asian Civilizations Museum, a truly remarkable institution housing a priceless collection of artifacts from the cultures of many different Asian countries.
Note: It should be noted that the Asian Civilization Museum is open daily from 10 am to 7 pm, except on Fridays.
One of the best things to do in Clarke Quay is to visit Central Fire Station and marvel at its colonial-style exterior, which is colorfully painted in white and red horizontal stripes.
You might also visit The Arts House, where films from around the world are often shown. This colonial tower dates back to the early 20th century and is often the site of exciting art exhibitions featuring the work of emerging Singaporean artists.
Nearest MRT: Clarke Quay is the station that is closest to your current location (North-East Route)
Skating the Night Away at Hi-Roller
A trip to Singapore to discover a fascinating new pastime sounds like just the thing.
All right, grab your roller skates and hit up Hi-Roller.
Here, at the biggest indoor skating rink in Singapore, you may hire roller or inline skates and enjoy the nostalgic atmosphere of the rink's disco ball and upbeat music.
Bring some friends to Hi-Roller with you if you're nervous about embarrassing yourself alone.
Extra Tip: If you need to take a break from skating, you can do so by holding onto the wall's railings.
Advice: Bring your long socks to avoid paying $3 for a new pair at the front desk.
Additional Details: Skates, elbow and knee pads, and a helmet are part of the rental equipment.
Address : 5/F, E!Hub, 1 Pasir Ris Cl, Singapore/519599
Nearest MRT: Pasir Ris MRT station is the closest (East-West Route)
Operating Times: Monday through Sunday from 11 am to 9 pm (According to your time slot)
Do Some Window Shopping at the Mustafa Center
Visit Mustafa Centre if you want to make the most of your time in Singapore and do not want to return to your hotel too soon.
This vast, 6-story mall sells 300,000 items, including cosmetics, electronics, groceries, and much more.
Hours might be spent browsing the wares of different companies as you make your way through the crowds at the counter aisles.
Next, visit the Kebabs N Curries restaurant on the building's penthouse level for flavorful Indian dishes and a soothing cup of chai tea.
Who knew browsing stores could be so fascinating?
Address: 145 Syed Alwi Road, Singapore/207704
Nearest MRT Station: Farrer Park (North-East Route)
Operating Times: 9:30 am to 11:30 pm.
Take a Trip to Tekka Center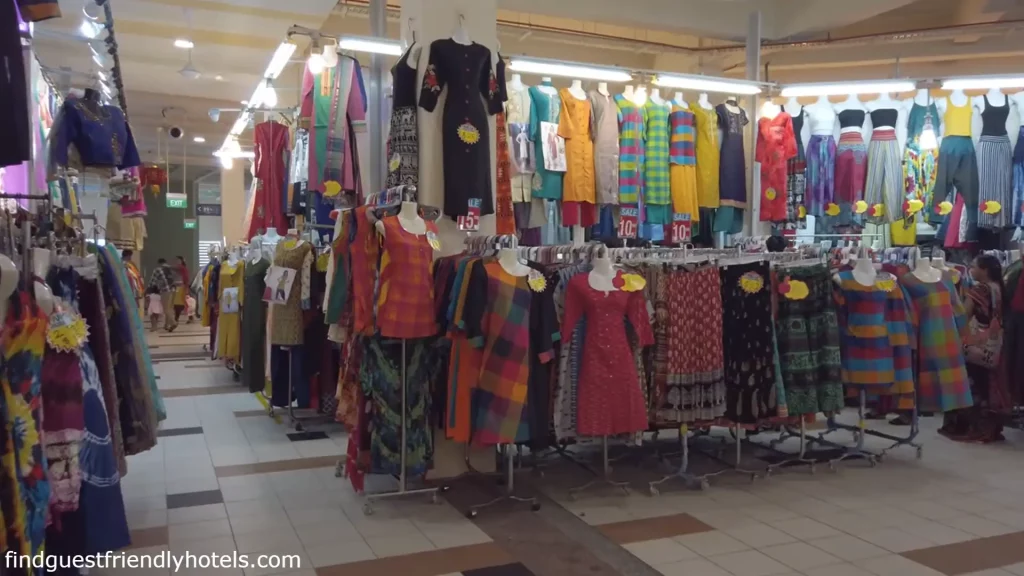 One of the must-see nighttime destinations in Singapore, Tekka Centre is conveniently close to Little India and is another excellent option for getting there.
The hawker center on the ground level is the place to go for cheap and excellent Indian cuisine.
When you're done, proceed upstairs to the bustling market where locals and tourists alike may buy authentic Indian goods like saris, garlands of flowers, aromatic spices, and more.
Plus, the booming music has the potential to awaken your inner Bollywood dancer.
Address: 665 Buffalo & Serangoon Roads, Little India, Singapore
Nearest MRT: Little India Station is the closest subway stop (North-East Route)
Opening times may differ from those listed.
Visit the Bugis Street Market to Look for Low-cost Items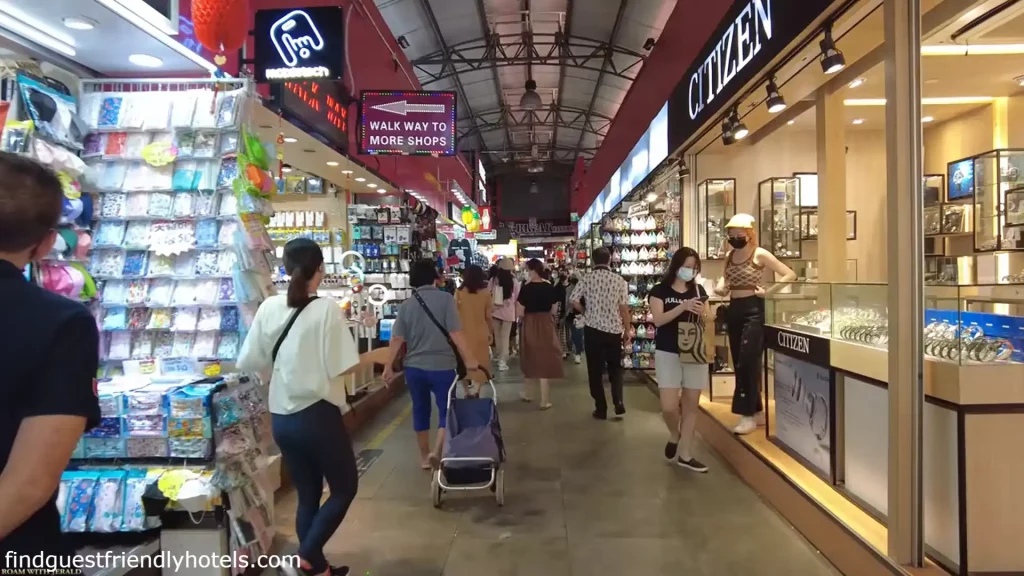 Those interested in bulk purchases at low prices should take advantage of the opportunity to visit Bugis Street Market, a famous Singaporean nighttime destination.
With over 600 shops to peruse, you're sure to find exactly what you're looking for at a price that will leave you gasping in shock.
The lowest price I've seen for a women's top was $4 ($5) in Singapore dollars.
In addition to its many other offerings, Bugis Street Market is a fantastic place to be if you're seeking a night out in Singapore that includes some self-care. The market is home to several massage and manicure parlors.
Address : 3, New Bugis Street, Singapore 188867; Singapore
Nearest MRT: Bugis is the closest one (East-West Line & Downtown Line)
Operating times: 11:00 am – 10:00 pm.
Spend Some Time at a Pet Café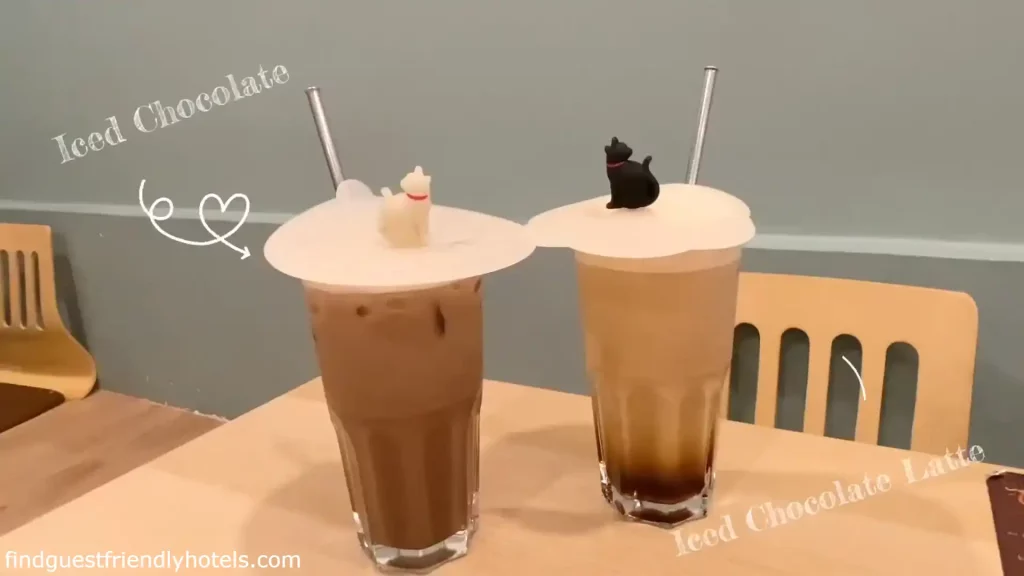 It's also a great idea to enjoy a night out in Singapore at one of the city-many state's pet cafes.
Light refreshments and alcoholic beverages may be available in some pet cafés.
It doesn't matter where you go, and you'll have a terrific time interacting with the pet cafe's free-roaming, insanely cute animals.
In case you're looking for a pet-friendly cafe to visit in Singapore after dark, here are a few options:
The Cat Café
We are the Furballs (WTF) Dog Café
Cat Cafe Neko no Niwa
Explore the Chinatown Area
Chinatown cruising is another well-liked evening activity in Singapore.
Chinatown Complex is Singapore's largest hawker center, so it's the perfect place to sample regional specialties.
The Chinatown Street Market is another excellent place to shop, selling everything from snacks to T-shirts to postcards to souvenirs.
Check out Club Street and Ann Siang Hill if you're seeking chill indie bars to enjoy Chinatown's nightlife.
Take a Fun Ride on Singapore Cable Cars!
Do you want to face your fear of heights while enjoying Singapore's exciting nightlife?
That goal can be attained by riding the Singapore Cable Car.
Leaving Mount Faber, the Singaporean Cable Car trip provides a breathtaking vista of the island's verdant forests, the harbor, the city skyline, and Sentosa.
If you want to take your experience to the next level, you may opt for Cable Car Sky Dining, where a gourmet four-course meal will be served as you take in the breathtaking views of the sunset and nighttime cityscape from the comfort of the cable car.
Place: 109/Mount Faber Rd, Singapore 099203
Service Time: Monday through Friday, 8:45 am to 4:30 pm.
Here is a complete guide to nightlife in Singapore, including 12 suggestions for where to go and what to do.
There are many exciting things to do in Singapore at night, so you won't have time to grow bored while sightseeing in this cutting-edge Asian metropolis.
8 Best Spots to Go in Singapore Nightlife
Many visitors to Singapore miss out on the city's vibrant nightlife because of this. It's natural if you want to sleep after a long day of touring and delicious meals.
But Singapore comes to life at night, so check out the city's club scene at least once during your stay. Going out at night is a costly undertaking, but you may have an unforgettable experience at some of the local bars and clubs.
Keep in mind that Singapore has very stringent alcohol restrictions. This may imply that the nightlife is much more subdued than you'd experience in Thailand or elsewhere in Southeast Asia.
Clubs typically require "Smart casual" clothes, so it's a good idea to confirm this information in advance. To assist you in planning your upcoming trip, I will share our 8 researched places to go in Singapore at night.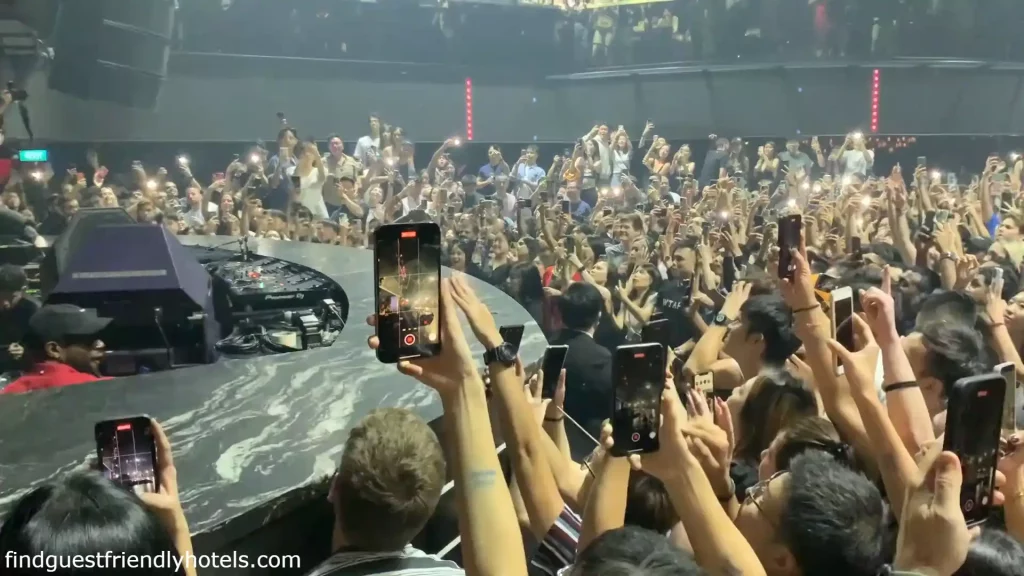 The Waterfront at Clarke Quay
Clarke Quay is the best place to be on a Friday night in Singapore. This area is home to some of Singapore's most popular nightclubs and is often regarded as the city's premier party spot.
Zouk is one of the best clubs in the neighborhood, so go there if you want to party. Up to 1500 individuals can find accommodation here. Zouk is an expensive night out but well worth it for the experience it provides.
DJs like Tiesto and David Guetta have played there in the past. This restored warehouse features three different nightclubs connected by a shared hallway.
If you require a little calmer entertainment, the Crazy Elephant always has live music. It's fun to stroll around here because there are amusement parks, adventure sports facilities, and waterfront restaurants.
Marina Bay
Even if you're not planning on going out, you should still check out Marina Bay Sands after dark.
This light display is presented nightly at 8:00 and 9:30, with an additional showing on Friday and Saturday nights at 11:00. Although it is a more sedate part of Singapore's nightlife, this region is nevertheless home to several fantastic bars and clubs.
If you want to see the sights, you should visit a rooftop bar.
At over 60 stories, 1 Altitude Bar provides breathtaking panoramas of the city below.
If you're willing to spend a little more, you can visit KU DE TA, another rooftop bar at Marina Bay Sands.
The nightlife at Club Kyo is excellent if you're searching for a place to party afterward.
KU DE TA is the world's tallest craft brewery, so if you're a fan of handcrafted beverages, you should visit them.
The Beautiful Sentosa Beach
Singapore is known for its beach parties. A trip to Sentosa Island must be on your list of priorities among the many intriguing places in Singapore's nightlife. Water sports like Hydrodash and indoor skydiving at iFly Singapore are just two of the many kid-friendly activities available here. When the little ones are in bed, you can relax in a private cabana and sip on a delicious cocktail from one of the many upscale beach bars.
We recommend Sentosa Island's beach bars if you're in the mood to party nonstop.
The Azzura Beach Club and the Tanjong Beach Club are my two top choices for places to go swimming in this area. If not, have a drink and unwind on this beautiful Singapore beach.
Chinatown
You can find bars across Chinatown if you're looking for a more relaxed nighttime. The first order of business is to eat at one of the many excellent restaurants in the vicinity and then find a place to unwind with a few drinks.
Weekends in Singapore's pubs and clubs may get extremely busy, so it's best to arrange reservations in advance if you can. The Gem Bar and Lounge is a popular hangout for hipsters in Chinatown.
On the other hand, the Screening Room offers a cocktail menu that changes daily to complement the films shown there.
Orchard Street
The region is known during the day for its fantastic retail malls, but it is becoming one of Singapore's most famous clubbing destinations at night. Traveling on a tight budget? Stop by Alley Bar. We recommend Bar None at the Marriott Hotel or Brix at the Grand Hyatt for a more opulent evening out.
Go on a Night Safari in Singapore
As night falls, the Night Safari's shutters open, ushering visitors into a realm inhabited by fascinating animals of the Singapore nightlife.
It may take a few moments for your eyes to adjust to the total darkness, but once they do, you'll be met by around 900 animals, including over 100 species, at the world's first nocturnal wildlife park. Numerous native species, including the Asian elephant, Malayan tapir, and Malayan tiger, are among the 41% of these species that are threatened.
Experience the animal kingdom in a new light at the Singapore Night Safari, located at the Singapore Zoo. Everyone in the family, from the youngest to the eldest, will have a great time on a night safari. Only while the moon is out will you be able to witness nocturnal species at work, such as owls, aardvarks, and Malayan tigers.
The Holland Village
Holland Village, a neighborhood full of residents and foreigners, comes to life after dark thanks to its abundance of bars. Beer at Harry's, part of a chain, is affordable.
Hacienda is a beautiful place to grab some organic cuisine and cocktails because they use only fresh fruit in their drinks.
Dempsey Hill, a historic district with many nightlife options, is not far away.
Aerial Dining Experience at CE LA VI
Do you need a break from your river activities? It's time to upgrade the celebration with a sumptuous meal and a round of cocktails at CE LA VI, high above the clouds.
At this luxurious fine dining establishment, you may indulge in dishes like Key Lime Pearls and Rice-Flake-Crusted Lobster while taking in breathtaking views of Singapore's cityscape from the rooftop Skybar.
How Expensive is Singapore Nightlife?
If you were looking for cheap vodka by the bucket, you've found the incorrect site. There are numerous stories confirming that Singapore's nightlife is extremely expensive. According to the 2016 Beer Price Index by GoEuro, a 330ml bottle of beer costs approximately S$11.40 (USD$ 8.34), making Singapore the second most valuable city in Asia for beer consumption.
The Economist Intelligence Unit once again ranks Singapore as the most expensive city in the world for 2018. The good news is that on Wednesdays, also known as Ladies' Night, numerous bars and clubs, including CÉ LA VI & Bang Bang, waive cover charges and provide complimentary alcoholic beverages to female patrons. So, you can easily make your Singapore nightlife memorable within your budget.
Related: Krabi Nightlife | Phuket Nightlife | Nightlife Hoi An | Manila Nightlife
FAQ About Nightlife in Singapore
What are the free activities in Singapore nightlife?
1. Visit Orchard Road at night to take in the sights.
2. Take in the views of Merlion Park after dark.
3. Visit the Chinese Quarter.
4. Take a trip to Clarke Quay.
5. Check out Haji Street.
6. Discover Airport Jewel.
7. Check out the Instagrammable Orchard Library.
8. Visit the Henderson Waves bridge for a stroll.
9. Spend some time strolling around the Marina at Keppel Bay.
10. Spend some time walking around the Singapore Botanic Garden.
11. Darkness lingering behind the Southern Peaks.
12. Take a trip to the Tekka Centre.
13. Go for a stroll along the Esplanade.
14. Enjoy some window shopping at the Mustafa Centre.
What Are the Best Activities with Families in nightlife Singapore?
1. The Fragment Room lets you release your inner wrecker, while Tanjong Beach Club enables you to relax.
2. Enjoy a ride on the Singapore Cable Car!
3. Take a bumboat ride down the Singapore River, it's beautiful!
4. Take in the sights of Orchard Road at night.
5. Go to Merlion Park at night and take in the views.
6. Skyline is where you should go if you want a heart-pounding experience. As the Night Draws In, We Luge.
7. Take a stroll over the bridge above Henderson Waves.
8. Visit the Singapore Botanic Gardens for a walk.
9. Visit Joya Onsen Cafe for a relaxing onsen experience.
10. Look for deals at the Bugis Street Market.
11. Join a cooking workshop focused on regional food to learn valuable tips and techniques.
12. Observe the cityscape from high above on the Singapore Flyer.
13. Urban cycling at night.
14. Play Axe Factor and See How Well You Can Hit Your Targets!
15. The aftereffects of the night lingered on the southern ridges.
Is There Anything to Do in Singapore After Midnight?
1. Going from bar to bar
2. Check out the sights of Orchard Road after dark.
3. Experience the beauty of Merlion Park after dark.
4. Clarke Quay is a must-see.
5. Take a Tour of Jewel International Airport
6. Urban cycling at night
7. Spend the night at Don Don Donki browsing for Japanese goods.
Is it costly to get a drink in Singapore?
In Singapore, alcoholic beverages are classified as luxury goods. It's pricey and burdened with excessive taxes. Beer, stout, cider, and perry all have duty charges of $48 per liter of alcohol, while wine and other spirits have prices of $70 per liter. Let me give you some context for this.
What are the top dating apps and sites in Singapore?
1. Bumble
2. Coffee Meets Bagel
3. Grindr
4. Paktor
5. Tinder
6. Happy
7. Love
8. Lunch Actually
9. Meetup
10. Async
Last Words
All of the above activities and sights will combine to make your trip to Singapore unforgettable. Mixing and matching the pursuits mentioned above to create the ideal itinerary can significantly enrich your trip and make it one you won't forget. Hope this article will help you to make your Singapore nightlife more exciting
If you have experience with any of the suggestions in this article, or if you have others that we should try, please share them in the comments section.
Also, please forward this article to your friends and loved ones if you found it helpful; after all, sharing is caring.